All You Need To Know About H3N2 Virus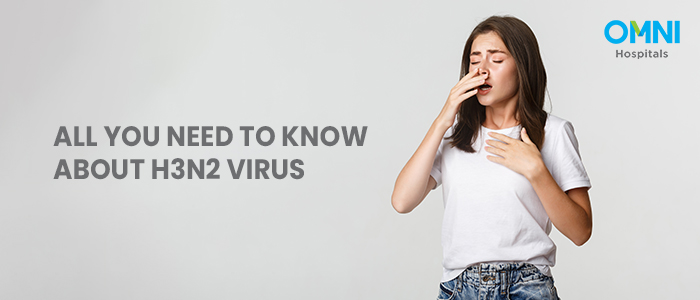 India is currently grappling with a new health crisis as cases of prolonged sickness, and cough has surged across the country, even though COVID-19 and related illnesses have largely subsided. These incidences are connected to the H3N2 virus, based on the information provided by the Indian Council of Medical research. The H3N2 is an influenza virus that is responsible for producing respiratory sickness in individuals and has caused multiple outbreaks in the past.
You should get a flu vaccination if you haven't already, according to health experts in India. They also advise wearing masks and using good hand hygiene. The following information is relevant and should be known in order to assist people in understanding this virus.
What is H3N2 Virus?
The influenza A virus, or H3N2, is a subtype of the influenza virus. The first influenza A H3N2 viruses were discovered in pigs over a decade ago. Since then, there have been several occasional outbreaks, all of which were brought on by a pig-to-human transfer. For the first time, a widespread viral epidemic has been seen in a number of nations, including India.
How does H3N2 spread?
The highly communicable H3N2 virus can spread from one person to another through droplets formed when sneezing, coughing, or talking. HPV can also spread by touching one's lips or nose after coming into proximity to something contaminated with the virus. When you are in close proximity to an infected individual, you run the risk of contracting the virus as well, and your symptoms might persist for up to five or seven days.
Symptoms of H3N2
The H3N2 flu's symptoms are quite similar to those of other seasonal flu. These can include:
Headache
Fever
Runny or stuffy nose
Sore throat with cough
Chills
Body ache
Fatigue
Diarrhea and vomiting (more frequent in children than adults)
Treatment for H3N2
The severity of a person's H3N2 flu symptoms will determine the appropriate course of treatment. H3N2 cases that aren't difficult are handled in the same way as any other seasonal flu:
Getting plenty of rest
Drinking enough fluids to stay hydrated
Using over-the-counter medications can assist in reducing fever, headache, and body pain.
When antiviral drugs are used within 48 hours after the onset of flu symptoms, the illness's length can be shortened, and complications can be avoided. Do not self-medicate; always take medications as directed by a doctor.
How serious is the H3N2 virus?
Patients with influenza A H3N2 who have severe acute respiratory infections (SARI) and are hospitalized are in a serious state of health. According to a news article, roughly 92% of these patients had fever, while 86% of them coughed, 27% of them felt breathless, and 16% wheezed. 16% more had clinical pneumonia symptoms and 6% more experienced convulsions. 10% of the H3N2 patients with SARI needed oxygen assistance, and 7% needed treatment in an intensive care unit (ICU).
Is H3N2 Preventable?
The best way to prevent H3N2 is to be vaccinated annually, regularly wash your hands with soap and water, keep away from sick people, cover your mouth and nose when you cough or sneeze, and skip work or school when you're feeling under the weather.
Do's and Don'ts to prevent H3N2 Virus

Stay away from crowded areas or use a face mask when in a crowded area.
Regularly wash your hands with soap and water before eating, before touching your face, mouth, or eyes, and after using the restroom.
Cover your mouth and nose while sneezing or coughing.
Stay Hydrated
Without a prescription from your doctor, don't use antibiotics.
Keep handshakes and other contact-based greetings to a minimum.
To stop H3N2 influenza from spreading, it is crucial to take the necessary precautions. Being aware of the symptoms, taking precautions, and seeking treatment can help people protect themselves and others from this common illness.