Creating Better Patient Experiences With Anytime Anywhere Telemedicine and Error Free, Paper Free Digitization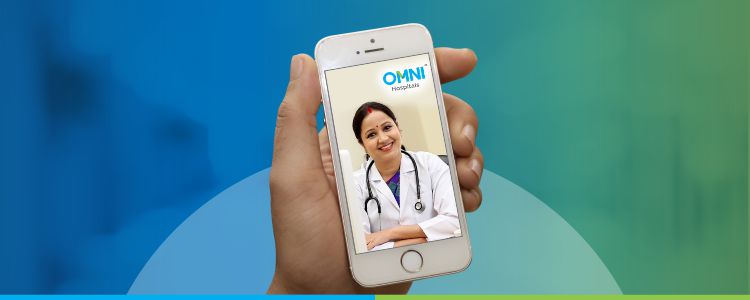 OMNI Hospitals is tapping into the miracle of technology to usher a new age of assurance, convenient and trust for patients.
When we are down with illness especially during pandemic times, there is a heightened sense of helplessness. For one thing, we aren't sure if it is safe to visit a hospital or care / service center which may not be successfully implementing COVID protocols. Despite the best intentions, social distancing, after all, can be difficult to maintain at all times, practically speaking. Then, there is the factor of time : Manual interventions and processes can take long, which can add to the anxiety and agony. Manual processes are also susceptible to errors, which only helps to aggravate the situation. Finally, in today's hectic times, we may not always have the necessary family or manpower support to escort and hand-hold us through the entire journey, which becomes particularly challenging if one is a senior citizen.

As an agile organization that is acutely tuned into the needs and moods of its esteemed patrons and patients, OMNI Hospitals has been alert to these shifting realities, and the new set of needs it has been spawning. In fact, we have been amongst the early adopters of new thinking and emerging practices when it comes to re-thinking the patient experience.

Amongst the big changes we are ushering to ensure patients have a safe, smooth and high quality experience are telemedicine and digitization.
We realize that for patients, technology arrives as a savior at this crucial hour, relieving the 'sticky situation' in not one, but multiple ways. The biggest difference has happened with the arrival and maturity of telehealth or telemedicine systems. First and foremost, telehealth/telemedicine takes the danger of physical contact out of the equation. Secondly, it is fast – which can be a real heaven-sent for patients in critical cases or during times of emergency. With almost every person now owning a mobile, and with telecom companies gradually expanding the reach of their tower networks and bringing down cost of Plans, one can access critical medical attention – by the finest professionals around the world – from practically anywhere, such as remote villages and regions of the country where a majority of 'Bharat' lives. An active telemedicine channel also goes a long way to relieve the pressure from frontline and other hospital staff and keeps them protected, since there is less in-person interaction. Finally, with physical visits no longer essential, both costs and hassle of treatment are coming down. It's a win-win situation, especially if one is a patient.

Not surprisingly, according to a recent survey conducted on patients, 80% of respondents said that they are likely to go for an institution or professional that offers telemedicine in contrast to one which does not, so, it is clear this technology is something patients want.

The other area where Team OMNI has been devoting a lot of our attention and effort is in the area of digitization and paperless systems, which is often technically referred to as EMR (Electronic Medical Recordkeeping). By adopting appropriate digital formats and platforms, it is now possible to substitute laborious manual efforts and paper formats with just a few clicks of an electronic or digital device. Both patients and care providers like hospitals and professionals benefit greatly from this new system. That is because (A) it is more accurate – since there are fewer manual mistakes happening, (B) records are easier to store and organize – which makes the system more accurate and efficient, and (C) allows for fast retrieval, share-ability and access at the point of care – making it easy for the consulting doctor or attending professional to check patient history conveniently and quickly. No wonder 'paperless' EMR systems are now acting as a vital support points for doctors, professionals and institutions to take better clinical decisions (CDSS), and as a result, patients are receiving higher quality diagnosis and treatment.
"At OMNI Hospitals, we are combining and optimizing the two pillars of telemedicine and digitization to get more out of technology, and vastly improve patient outcomes – be it in terms of hygiene and peace-of-mind, ease of booking appointments from the comfort of one's home, simple and hassle-less digital payment options or home delivery of medicines. Yes, it is time to tap into technology to usher the next age of assurance, convenient and trust… for everyone" – Mr. Abdullah Saleem – CIO – OMNI Hospitals