Inside an Intensive Care Unit (ICU)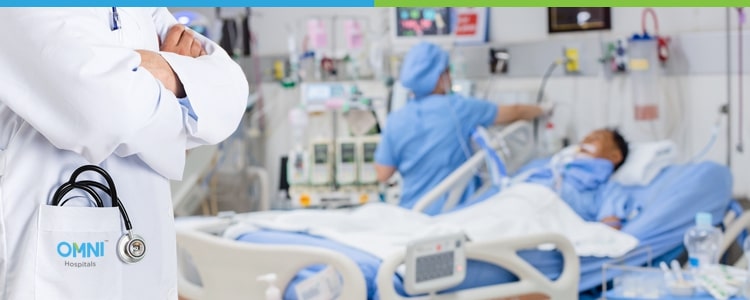 Since their widespread introduction more than half a century ago, Intensive Care Units (ICUs) have become an integral part of the healthcare system.  An Intensive Care Unit (ICU), also known as an Intensive Therapy Unit or Intensive Treatment Unit (ITU) or Critical Care Unit (CCU), is a special department of a hospital or health care facility that provides intensive treatment medicine.
Intensive Care Units cater to patients with severe or life-threatening illnesses and injuries, which require constant care, close supervision from life support equipment and medication in order to ensure normal bodily functions. They are staffed by highly trained physicians, nurses and respiratory therapists who specialize in caring for critically ill patients. 
Here is an excerpt from a video interview of Dr K V S Murthy, Intensivist at Omni Hospitals, Visakhapatnam on Intensive Care Units. 
Q.What is an Intensive Care Unit and what is its importance?
A. An ICU is an organized system for the provision of care to critically ill patients that provides intensive and specialized medical and nursing care, an enhanced capacity for monitoring, and multiple modalities of physiologic organ support to sustain life during a period of life-threatening organ system insufficiency.
Although an ICU is based in a defined geographic area of a hospital, its activities often extend beyond the walls of the physical space to include the emergency department, hospital ward, and follow-up clinic.
Q.Who is an intensivist?
A. Intensivists admit patients to the Intensive Care Unit. Each patient has a critical care nurse, who manages and monitors the patient.
Q. How does an intensivist-led ICU differ from a traditional ICU?
A. Intensivists are trained to treat patients following a certain protocol and in an evidence-based way, unlike the traditional ICU where there is no set protocol that is followed.
Q. What is the golden hour?
A. Golden hour is the first hour after a serious medical event or injury during which treatment is likely to be the most effective.
Q. What is physical trauma?
A. Physical trauma refers to an injury of sudden onset and severity which requires immediate medical attention. Physical traumatic injuries are the result of a wide variety of blunt, penetrating, and burn mechanisms. They include motor vehicle collisions, sports injuries, falls, natural disasters, and a multitude of other physical injuries which can occur at home, on the street, or at work or school and require immediate care.
Q. How to treat patients experiencing physical trauma?
A. Many trauma management treatment program options are available to the average person. Given the unpredictable and almost random nature of trauma, it just isn't possible to adopt a one-size-fits-all approach to recovery. 
The first, most obvious place to begin with trauma therapies is in the immediate management of the physical effects of the trauma. Physical injuries are first stabilized and then treated in a chain of medical actions that begin in the field with effective emergency care and end with discharge to physical therapy. Obviously, the exact course followed through the recovery process will differ from one patient to the next, but, in general, the central focus will be on preventing further harm, stabilizing the patient's present condition and moving forward with the repair of the physical damage. 
Apart from any equipment or medications used in the course of this process, the techniques of physical therapy — special exercises, massage and practice at using necessary equipment such as prosthetic devices — will be employed to salvage as much of the individual's prior quality of life as possible.
Q. During an emergency, what is the importance of anaesthesia?
A. There are different types of anaesthesia used for different types of surgery. The reason behind giving general anaesthesia is to keep the person unconscious, without pain, with no sensation or any memory about the surgery.
Patients undergoing emergency surgery have a 10-fold increased risk of adverse events compared to those having planned or elective surgery. The objective of emergency anaesthesia is to allow correction of the surgical pathology with minimum risk to the patient.
Q. Which patients require close monitoring?
A. Patients who require close monitoring are cardiac patients, neuro patients, accident victims and patients experiencing internal organ failures.
Q. What should be done before a consultation?
A. Stabilising a patient before the consultation is very important. 
The outreach services of critical care medicine play a pivotal role in improving patient care inwards by providing all logistic support for early recognition of acute life threatening events and treatment interventions to stabilise sick patients who are at the risk of developing life-threatening events.
Q. What are some of the infections contracted in an ICU?
A. There are some common and widespread infections that are contracted in ICUs around the world. While preventive measures can keep them controlled, they are still around.
Ventilator-Associated Pneumonia: This disease usually occurs 48 hours after the mechanical ventilation is given to the patient. This infection has a high mortality rate and can also greatly increase the hospitalization costs.
Bloodstream Infection: Central line-associated bloodstream infection is a very serious infection in the ICU. This usually occurs when germs enter the bloodstream through the central intravenous line. Patients with this infection often have red skin and soreness around the central line. There are tests that can help doctors identify the infection.
Urinary Tract Infections (UTI): Many patients in the ICU are bedridden and because of this they need to be attached to a catheter. Among all the UTIs contracted in hospitals, 75% are catheter-related. Nearly 15-25% of patients in the hospitals receive catheters. There are protocols to ensure that the infection does not spread, but the sheer invasiveness of the device often makes them redundant.
Surgical Site Infections: Surgical site infections, unfortunately, are very common in the ICU. While this does not have a significant mortality rate, it behoves hospitals to be aware of the problem and work towards curtailing it.
Clostridium Difficile Infection: This is a bowel infection common among those that have been given long doses of antibiotics. People who have this infection can exhibit watery diarrhoea three or more times a day, mild abdominal cramping and tenderness.
Q. Can a ventilator cause brain damage?
A. No, a ventilator cannot cause brain damage.
Q. What is the difference between CCU and ICU?
ICU: ICU stands for Intensive Care Unit. The primary intention behind keeping a patient in this room is to provide constant care to those who have a relatively short term, but serious problems like organ failure. The patient and his treatment need to be constantly monitored. Patients are usually intubated for breathing and supply of food.
CCU: CCU stands for Coronary Care Unit, Cardiac Care Unit or Critical Care Unit. It is basically a specialized ICU which is said to be dealing with cardiac patients and is usually staffed by cardiologists. The CCU provides intensive care for the patient who has been admitted because of a heart attack, heart complications or for cardiac surgery. The staff in this unit are trained to care for and monitor patients with various types of heart conditions. While this could be one explanation, another explanation of the CCU is that it takes care of the patients who are comatose or terminally ill, and are not going to be there for a short period of time.
Q. How common is misdiagnosis in an ICU?
A. Not very common.
Q. What is the structure of a healthcare team in an ICU?
A. The ICU team typically comprises physicians or intensivists, clinical pharmacists, respiratory therapists, dieticians, bedside nurses, clinical psychologists, and clinicians-in-training. ICU teams are distinguished from other health care teams in that they are low in temporal stability, which can impede important team dynamics. Furthermore, ICU teams must work in physically and emotionally challenging environments.
Q. What is a step-down unit?
A. The functions of Step-down units vary, but most accommodate patients who need either cardiac monitoring or more frequent nursing attention than allowed in the general ward. Some SDUs perform the long-term mechanical ventilatory treatment and some may even manage low-dose vasoactive drug infusions.
Q. How long can a person live on a ventilator?
A. People can live for years on a ventilator.
Q. Is there a discharge from the ICU directly at OMNI Hospitals?
A. No, patients are not discharged directly from the ICU. They are first shifted to an observation ward.
Q. What are the intensive care facilities available at OMNI Hospitals, Vizag?
A. The ICU at OMNI Hospitals, Vizag is well-staffed and trained, centrally air-conditioned and meticulously checked for hygiene every single hour. There is a nurse for every two beds. The bed-to-bed spacing is plenty and comfortable for all patients. The number of beds is 25; well-equipped with advanced mechanisms and handwash systems.
The consultation and team coordination among all the departments for a critical case in OMNI hospitals are brilliant and hence makes for a seamless experience for a patient.