OMNI Hospitals: An Institution of Trust & Hope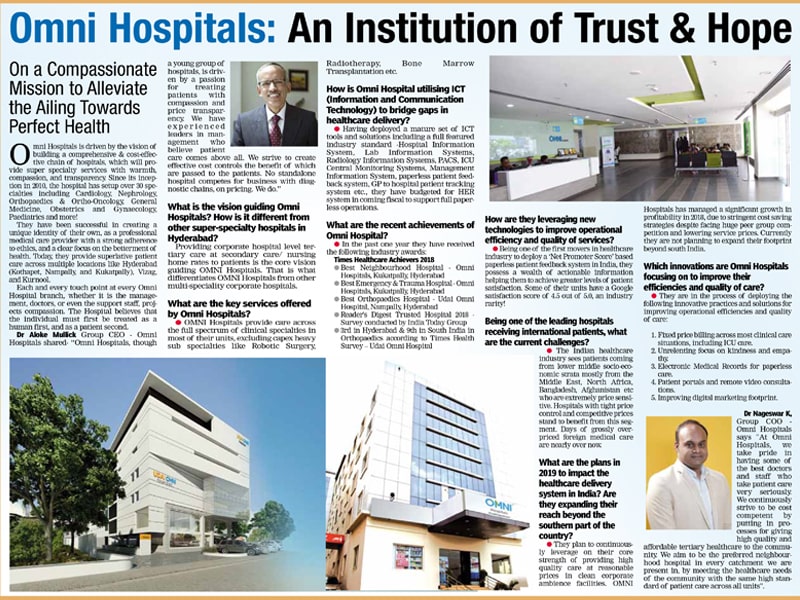 On a Compassionate Mission to Alleviate the Ailing Towards Perfect Health
OMNI Hospitals is driven by the vision of building a comprehensive & cost-effective chain of hospitals, which will provide super specialty services with warmth, compassion, and transparency. Since its inception in 2010, the hospital has setup over 30 specialties including Cardiology, Nephrology, Orthopaedics & Ortho-Oncology, General Medicine, Obstetrics and Gynaecology, Paediatrics and more!
They have been successful in creating a unique identity of their own, as a professional medical care provider with a strong adherence to ethics, and a clear focus on the betterment of health. Today, they provide superlative patient care across multiple locations like Hyderabad (Kothapet, Nampally, and Kukatpally), Vizag, and Kurnool.
Each and every touch point at every OMNI Hospital branch, whether it is the management, doctors, or even the support staff, projects compassion. The Hospital believes that the individual must first be treated as a human first, and as a patient second.
Dr Aloke Mullick Group CEO – OMNI Hospitals shared- "OMNI Hospitals, though a young group of hospitals, is driven by a passion for treating patients with compassion and price transparency. We have experienced leaders in management who believe patient care comes above all. We strive to create effective cost controls the benefit of which are passed to the patients. No standalone hospital competes for business with diagnostic chains, on pricing. We do."
What is the vision guiding OMNI Hospitals? How is it different from other super-specialty hospitals in Hyderabad?
Providing corporate hospital level tertiary care at secondary care/ nursing home rates to patients is the core vision guiding OMNI Hospitals. That is what differentiates OMNI Hospitals from other multi-speciality corporate hospitals.
What are the key services offered by OMNI Hospitals?
OMNI Hospitals provide care across the full spectrum of clinical specialties in most of their units, excluding capex heavy sub specialties like Robotic Surgery, Radiotherapy, Bone Marrow Transplantation etc.
How is OMNI Hospital utilising ICT (Information and Communication Technology) to bridge gaps in healthcare delivery?
Having deployed a mature set of ICT tools and solutions including a full featured industry standard -Hospital Information System, Lab Information Systems, Radiology Information Systems, PACS, ICU Central Monitoring Systems, Management Information System, paperless patient feedback system, GP to hospital patient tracking system etc., they have budgeted for HER system in coming fiscal to support full paperless operations.
What are the recent achievements of OMNI Hospital?
In the past one year they have received the following industry awards:
Times Healthcare Achievers 2018
Best Neighbourhood Hospital – OMNI Hospitals, Kukatpally, Hyderabad
Best Emergency & Trauma Hospital – OMNI Hospitals, Kukatpally, Hyderabad
Best Orthopaedics Hospital – Udai OMNI Hospital, Nampally, Hyderabad
Reader's Digest Trusted Hospital 2018 – Survey conducted by India Today Group
3rd in Hyderabad & 9th in South India in Orthopaedics according to Times Health Survey – Udai OMNI Hospital
How are they leveraging new technologies to improve operational efficiency and quality of services?
Being one of the first movers in healthcare industry to deploy a 'Net Promoter Score' based paperless patient feedback system in India, they possess a wealth of actionable information helping them to achieve greater levels of patient satisfaction. Some of their units have a Google satisfaction score of 4.5 out of 5.0, an industry rarity!
Being one of the leading hospitals receiving international patients, what are the current challenges?
The Indian healthcare industry sees patients coming from lower middle socio-economic strata mostly from the Middle East, North Africa, Bangladesh, Afghanistan etc who are extremely price sensitive. Hospitals with tight price control and competitive prices stand to benefit from this segment. Days of grossly overpriced foreign medical care are nearly over now.
What are the plans in 2019 to impact the healthcare delivery system in India? Are they expanding their reach beyond the southern part of the country?
They plan to continuously leverage on their core strength of providing high quality care at reasonable prices in clean corporate ambience facilities. OMNI Hospitals has managed a significant growth in profitability in 2018, due to stringent cost saving strategies despite facing huge peer group competition and lowering service prices. Currently they are not planning to expand their footprint beyond south India.
Which innovations are OMNI Hospitals focusing on to improve their efficiencies and quality of care?
They are in the process of deploying the following innovative practices and solutions for improving operational efficiencies and quality of care:
Fixed price billing across most clinical care situations, including ICU care.

Unrelenting focus on kindness and empathy.

 Electronic Medical Records for paperless care.

Patient portals and remote video consultations.

Improving digital marketing footprint.
Dr Nageswar K,
Group COO – OMNI Hospitals says "At OMNI Hospitals, we take pride in having some of the best doctors and staff who take patient care very seriously. We continuously strive to be cost competent by putting in processes for giving high quality and affordable tertiary healthcare to the community. We aim to be the preferred neighborhood hospital in every catchment we are present in, by meeting the healthcare needs of the community with the same high standard of patient care across all units".