"OMNI Visakhapatnam PERFORMS HIGH END CANCER SURGERY BY DR. KISHORE B. REDDY PIONEER in LIMB-SAVING SURGERIES in Andhra Pradesh & Telangana"
Posted on: August 20, 2015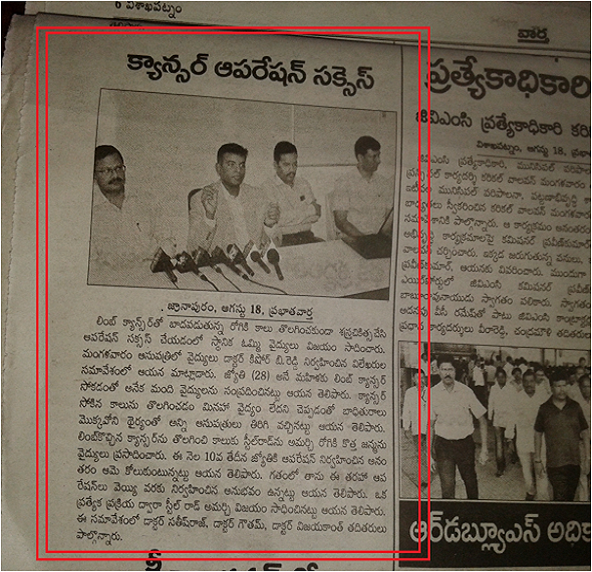 On 10th August'15, Dr. Kishore B.Reddy, Head of Musculoskeletal Oncology, at Omni Hospitals, performed a cutting-edge, limb-sparing cancer surgery on a 28 year-old female patient by name Jyothi. She is suffering from Osteosarcoma of her Right Thy Bone, a form of cancer that affects bone around joints in the arms and legs. During her 6 months bout with the disease, she eventually lost her ability to walk as the tumor, which grew in size, caused great pain and even broke the bone.
Before visiting Dr. Kishore B. Reddy at Omni Hospitals, she visited many other premier cancer centers in India, all of which recommended amputation at the hip as the only cure. She was recommended to see Dr. Kishore B. Reddy for limb salvage by Dr. Murali Krishna, MGM Cancer Hospital, Vizag.   Determined to find a way to save her leg, she sought opinion of Dr. Kishore B. Reddy at Hyderabad. After examination, Dr. Kishore B. Reddy presented Mrs. Jyothi with the opportunity to save her leg by performing a specialized procedure called a whole Excision with Mega prosthesis Reconstruction at Omni Visakhapatnam Hospital, Vizag.
During the procedure, which lasted 6 hours and was performed in state of art theatre at Omni Visakhapatnam Hospital, Vizag, Dr. Kishore B. Reddy, successfully excised a massive tumor and reconstructed Mrs. Jyothi's femur bone with metallic Implant. Following the procedure, Mrs. Jyothi can now walk on her own and will be able to resume normal daily activities soon. "This case represents a very successful outcome. Patients with Osteosarcoma deserve to have the option of a cure that does not involve amputation," Dr. Kishore B. Reddy remarked upon finishing surgery.
To perform such a unique procedure, Dr. Kishore B. Reddy completed his surgical training at TATA Memorial Hospital in Mumbai and went on to complete advanced training in Musculoskeletal Oncology and Tissue Banking at National University Hospital in Singapore, a one-thousand-bedded hospital recognized internationally for its excellence in many fields. Currently, there are approximately 10 surgical oncologists with special focus on orthopedics in all of India. Of them, only Dr. Kishore B. Reddy practices at Omni Hospitals in Andhra Pradesh & Telangana. After returning from Singapore in past 6 years he has done more than 1000 cases of Limb Salvage surgeries and has special interest in Pelvic Reconstruction surgeries.
"Cancers of the bone and soft tissues are not as common as other cancers, but they deserve special attention for many reasons. First, while they can affect adults, they very commonly affect young people, children or teenagers. Second, because very few centers have the expertise to deal with them, they often result in debilitating amputations that often are not necessary," commented Dr. Kishore B. Reddy.   He then added, "As a nation, we need more doctors with specialized training so that patients affected by diseases like Osteosarcoma have access to the latest global standards, which include options for a cure besides amputation."
It is of great privilege to have a Surgeon like Dr. Kishore B. Reddy to come to Vizag and render his services to our patients in Omni Visakhapatnam Hospitals Vizag.