Understanding OMICRON: Preventive Measures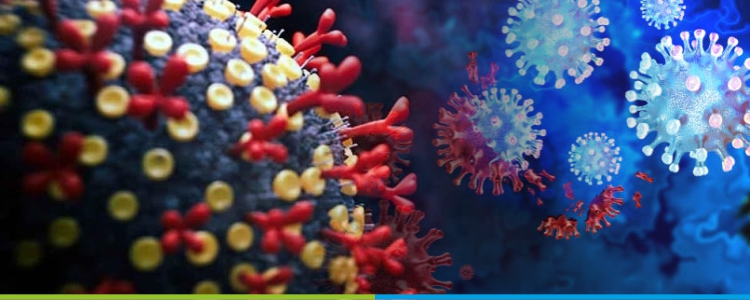 With the discovery of the OMICRON variant, COVID-19 has been rapidly spreading around the world, including in India. The increased number of cases of OMICRON, despite its milder symptoms than Delta, has sparked fears over the third wave of Coronavirus. As the OMICRON strain is relatively new and little information about it exists, there is still no way to know whether it can be effective as a vaccine.
So, what is the OMICRON variant and how does it develop?
According to WHO, the OMICRON variant of COVID-19 has several mutations that may affect the way it behaves. There is still considerable uncertainty surrounding OMICRON, and much research is being done to evaluate its transmissibility, severity, and recurrence risk.
There is a greater likelihood of a virus mutating when it is circulating widely and causing many infections. As a virus spreads, it has more chances to undergo change.
The new COVID-19 variants, like OMICRON, serve as a reminder that there is still a long way to go in the COVID-19 pandemic. In order to prevent the spread of the virus, people should get the vaccine as soon as it becomes available and follow existing prevention advice, such as wearing masks, washing their hands regularly, and ventilating their homes.
Vaccines and other public health measures need to be widely accessible. Many low-income African countries have been left at the mercy of COVID-19 because of vaccine inequity. Countries with adequate vaccine supplies must deliver the doses they promised immediately.
Is OMICRON more severe than COVID-19?
OMICRON is suspected of being milder than Delta, but more studies are needed, and WHO cautions that it should not be dismissed as mild. Studies will continue as information comes in. Besides the Delta variant that is still dominant around the globe, all variants of COVID-19 can cause severe disease or death. Thus, it is so important to reduce the risk of exposure to the virus and prevent it from spreading.
How contagious is OMICRON?
The OMICRON variant spreads faster than the other variants. WHO expects OMICRON to outpace the Delta variant, where there is COVID-19 transmission in the community based on the information. The best way to prevent the spread of COVID-19 is to get vaccinated and take precautions like avoiding crowded places, keeping your distance from others, and wearing a mask, because these measures have worked against other COVID variants.
How effective are the COVID-19 vaccines against OMICRON?
Researchers are investigating the effect of OMICRON variants on the effectiveness of the COVID-19 vaccine. There is limited information, but it is possible that vaccines may be less effective against severe illness and death, and that mild diseases and infections will become more common. However, according to WHO, the currently available vaccines offer substantial protection against severe diseases and death so far.
In addition, vaccines are also recommended for protection against other commonly circulating variants, such as the Delta variant. Don't delay getting vaccinated when it's your turn. It is vital that you receive both doses of your vaccination if it involves two doses.
How can we stay protected from OMICRON?
Taking precautions to reduce your exposure to the virus is the most important thing you can do. You can do this by:
Cover your mouth and nose with a mask. When you wear and remove your mask, make sure your hands are clean.
Stay at least 1 meter away from others when wearing your mask.
Do not go into poorly ventilated or crowded areas.
Increase ventilation indoors by opening windows.
Wash hands frequently.
Get vaccinated when the time comes. There is no risk involved with the WHO-approved COVID-19 vaccine.
Following all the precautionary measures regularly is the most important thing to stay safe from OMICRON. However, in case of any symptoms of mild fever, fatigue, body pain, sweating, or scratchy throat, it's important to get in touch with the doctor. At OMNI, we have the best physicians with a dedicated team to take care of the patients infected from COVID-19.
Get in touch with the experts at OMNI immediately in case of breathing problems, discoloration of fingers/toes, red/ irritated eyes, loss of speech, difficulty in moving, diarrhoea, or sore throat for the best & affordable care.
Keep following all precautionary measures. Get tested immediately in case of any signs/symptoms. Stay in isolation if you have tested positive for the virus and the most important thing to keep in mind is that you must not panic. These are the only ways to stay safe & protected from COVID-19.
Call @ 888-0101-000 in case of any medical help 24*7